2009 ...
januari (9) februari (8) maart (9) april (9) mei (6) juni (9) juli (8) augustus (10) september (6) oktober (3) november (11) december (1)
2009-05-04 22:22 i1731

[permalink]
Klootzakken! Ik neem dat dan op omdat ik wel nog wat waarde hecht aan mijn nachtrust, en dan gooien ze er een live optreden tussen van een paar overjaarse rockers... Dus heb ik op het einde nog een, stukje van het begin! Hopelijk flikken ze me dat niet meer als ze met de nieuwe serie beginnen. Ik ga voor de zekerheid maar een uur ekstra opnemen...
http://www.vt4.be/p_battlestargalactica.php

2009-05-05 23:52 i1733

[permalink]
It's finally here! I've been working on this for a few years, here a few hours, there a few, then a long period of nothing, before I picked it up again. I wanted to get the hang of CSharp, so I selected this project to re-do. While I was re-working it, I wanted a few extra's: a better behind-the-scenes handling of communication between items when running, and an 'open' framework that is easy enough to add sets of items to. Thanks to dotnet's reflection this wasn't that hard. I may post more info about that in the future. I would have liked to make it impossible to build feedback-loops (see image)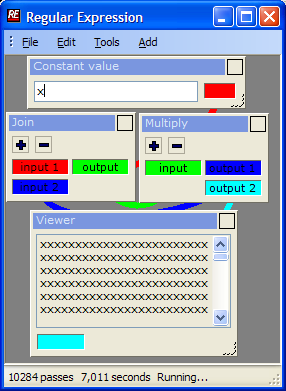 , but even with the improved signals-handling, this is still possible. (Though you need to set 'pass as it comes' on the join item.)
Next was to fine-tune and test it untill it was feature-complete with the previous version. There are a few minor differences, and when loading old files some issues may turn up, but this is probably due to bugs in the old version or because the new version doesn't have connection points any more that can be both input or output (e.g. the old version had 1 connection point to either set or get text on/from the clipboard.)
Since all of the items are now defined in dll's, I've added an XML library, one of things on my personal wish-list. I may create database items later. (Or if you want to have a try, have a peek at how the dll's do it and have a go at inheriting from REBaseItem.)
Thanks to dotnet, the binaries are really small now. As a fallback, (or if you want to compare with the Delphi version), I'll leave the previous version here: RE_old.zip
Enjoy! Let me know if you have idea's, or requests, or get constructions that don't behave properly...

2009-05-07 19:55 i1734

[permalink]
Tiens, meer wegenwerken of anders? Hoe komen ze er bij? Er zijn toch verkiezingen binnenkort!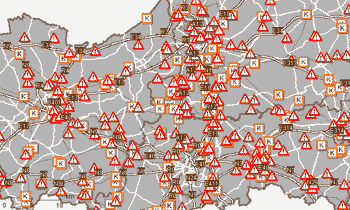 2009-05-07 22:39 i1735

[permalink]
Tiens, zou dit zijn wat ik denk dat het is?
http://msdn.microsoft.com/en-us/library/bb677290.aspx
Hmm, het lijkt bedoeld te zijn voor wat ik denk dat het is, alleen hebben ze er een hele vreemde draai aan gegeven... Meer nog, het lijkt me wel wat moeilijk in hun systeem om een tak te gaan verplaatsen in de boom. Niet dat dat zo veel gebeurt, maar toch, als dat langer gaat duren als er meer nodes in de tak zitten, zou ik dat toch wat vreemd vinden... Maar zoals nog dingen die ze wel eens gelanceerd hebben, als je overtuigd bent van de methode die ze voorstellen, en er blind in vertrouwd dat ze er alles aan gedaan hebben om die methode dan ook zo performant mogelijk te krijgen, dan zou het misschien wel eens de moeite kunnen zijn om het te gebruiken.

Let op, ze halen alle truuken boven.
2009-05-08 09:10 i1736

[permalink]
Krijg ik op een goeie dag een mail:
Janine Sandford to anonymous@yoy.be
Hi,
We are trying to popularize our new website via advertising. So please tell me do you have advertising spots on your yoy.be and how much these spots cost.
Greetings
Ik denk, tiens, een wat vreemde vraag. Is eens iets anders dan geneesmiddelen of chirurgische ingrepen die woren aangeboden. Maar is een eenvoudige vraag, met een eenvoudig antwoord, die kan ik misschien wel antwoorden... Maar eerst eens deze mail langs vanachter bekijken...
Delivered-To: stijnsanders@gmail.com

Ik laat al mijn mail forwarden naar mijn Google Mail. Toen spam nog veel te erg was bleek dat de beste spam-filter te zijn.

Received-SPF: softfail (google.com: best guess record for domain of transitioning jkanders@alpha.delta.edu does not designate 213.199.73.80 as permitted sender) client-ip=213.199.73.80;

Ah, SPF die failt, is al verdacht. (Trouwens, RIPE op dat IP nummer zegt Zweden, verdacht).

X-Gmail-Fetch-Info: yoy-be@yoy.be 1 mail.yoy.be 110 yoy-be@yoy.be

Deze is via POP3 door Google binnengetrokken.

Return-Path: <jkanders@alpha.delta.edu>

Hmm, er blijkt inderdaad een Delta College te zijn in Michigan...

Delivered-To: yoy-be@yoy.be

Dank u

Received: from google.com (80.net73.skekraft.net [213.199.73.80])
by e3-srv114.server.eu (Postfix) with ESMTP id 1C2CC4C8290
for ; Fri, 8 May 2009 04:31:58 +0200 (CEST)

Hela, hela! Een beetje mail sturen van een server die je zelf "google.com" noemt? Dat werkt niet want we zien toch dat je bij een provider in Skelleftea in Zweden zit. (yoy.be draait ergens onder server.eu, dat klopt wel.)

Received: from [132.123.43.109] (HELO google.com)
by wideclubhouse.cn; Fri, 8 May 2009 04:32:06 +0200

En deze snap ik al helemaal niet! Een IP nummer bij het leger en een Chinese mail-server?! Dit stinkt van ver.

Date: Fri, 8 May 2009 04:32:06 +0200

Hmm, +0200, da's niet de tijdzone van Michigan...

From: Janine Sandford <jkanders@alpha.delta.edu>

Tiens, misschien is Janine getrouwd met ene meneer Anders. En gebruikt ze de mail-account op de webserver van haar man om mij te vragen over reclame-mogelijkheden? (En weet ze de volgende Lotto-nummers?)

X-Mailer: The Bat! (v2.01)

Tiens, een hele oude versie, ook een beetje raar. En educationele (of militaire?) kringen gebruiken ze toch meestal zo iets unix-gezind, of centraal-beheer-gezind?

Reply-To: Janine Sandford <17491richard.learn@gmail.com>

Jaja, een totaal ander reply adres? Bij Google Mail? Nu stinkt dit zaakje zeker.

To: =?windows-1251?B?eW95LmJl?=
Subject: =?windows-1251?B?QWR2ZXJ0aXNlIG9uIHlvdXIgc2l0ZT8=?=
MIME-Version: 1.0
Content-Type: text/plain; charset=windows-1251
Content-Transfer-Encoding: base64


Tiens, Codepage 1251? Jaja, Russian or Bulgarian. Dat wil ook wel iets zeggen...


SGksDQoNCldlIGFyZSB0cnlpbmcgdG8gcG9wdWxhcml6ZSBvdXIgbmV3IHdlYnNpdGUgdmlhIGFkdmVydGlzaW5nLiBTbyBwbGVhc2UgdGVsbCBtZSBkbyB5b3UgaGF2ZSBhZHZlcnRpc2luZyBzcG90cyBvbiB5b3VyIHlveS5iZSBhbmQgaG93IG11Y2ggdGhlc2Ugc3BvdHMgY29zdC4NCg0KR3JlZXRpbmdz
Bon, ik hoop dat ze bij Google echt wel iets doen met die "Report phishing" meldingen...

2009-05-17 22:48 r1346

[permalink]
→ RE v2.0
update: 2.0.1.241
- added Multiple/Decide
- fixed issue with Join taking all paths from a single item.
- fixed issue with Multiply sending data over all paths to a single item.
- added REFileSystem.dll